Another scorching hot summer day at Windsor show. Lovely for the humans but a little harder hitting on the dogs. However they still coped well and achieved some great results under judge; Mr Reynolds-Frost. Welldone Asterel gang! Our results were:
Best of Breed- Xuva Da Costa Oeste at Asterel (Imp Port)
Reserve Best Dog- Asterel Deeago
Reserve Best Bitch- Asterel Xquita
Best Puppy- Asterel Kat Colorado
Puppy Dog- Asterel Sam Spade (Owned by Julie Holt)
1st Post Graduate dog- Asterel Innuendo
2nd Junior Bitch- Asterel Belle Starr At Garregddu (Owned by Tracey and Rebecca Roberts)
3rd Junior Bitch- Asterel Tuppence (Co-owned by Carol Ogborn and Rosemary Titman)
2nd Post Graduate Bitch- Asterel Bohemian Rhapsody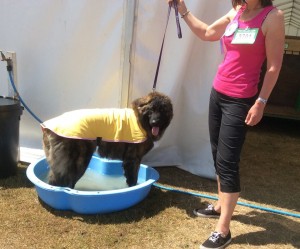 Starr wearing her cool coat in a paddling pool to cool down.